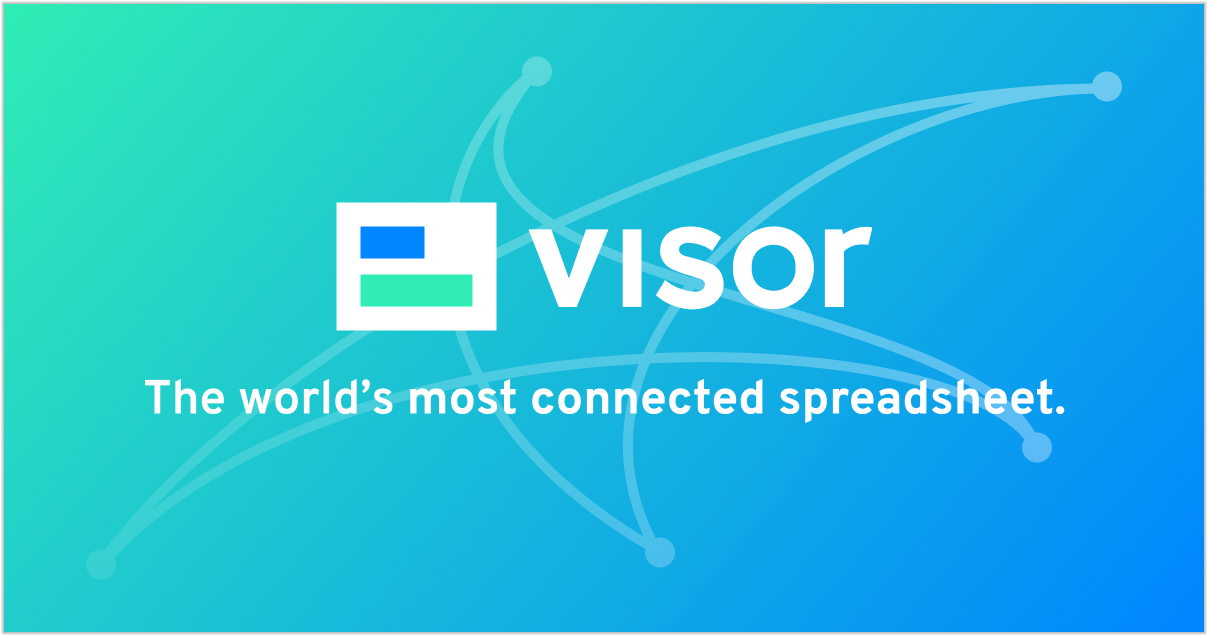 Launching the World's Most Connected Spreadsheet
We're announcing our $5 million seed round
Today, we're announcing our $5m seed round to empower solutioneers everywhere to build amazing business solutions powered by live business data from all their apps. General Catalyst led the financing, with additional investment from Bessemer, Converge Ventures, Craft, and M13. Angels include Nat Friedman, CEO of GitHub, and Nnamdi Okike, Founding Partner of 645 Ventures.
After a few years of R&D, I'm incredibly proud to share the news of our financing and the official launch of the Visor product. The official press release is here.
With this funding, Visor will be expanding our team and making Visor more powerful. This will help us narrow the digital divide, empowering people of all skill levels to build powerful business apps using their spreadsheet skills.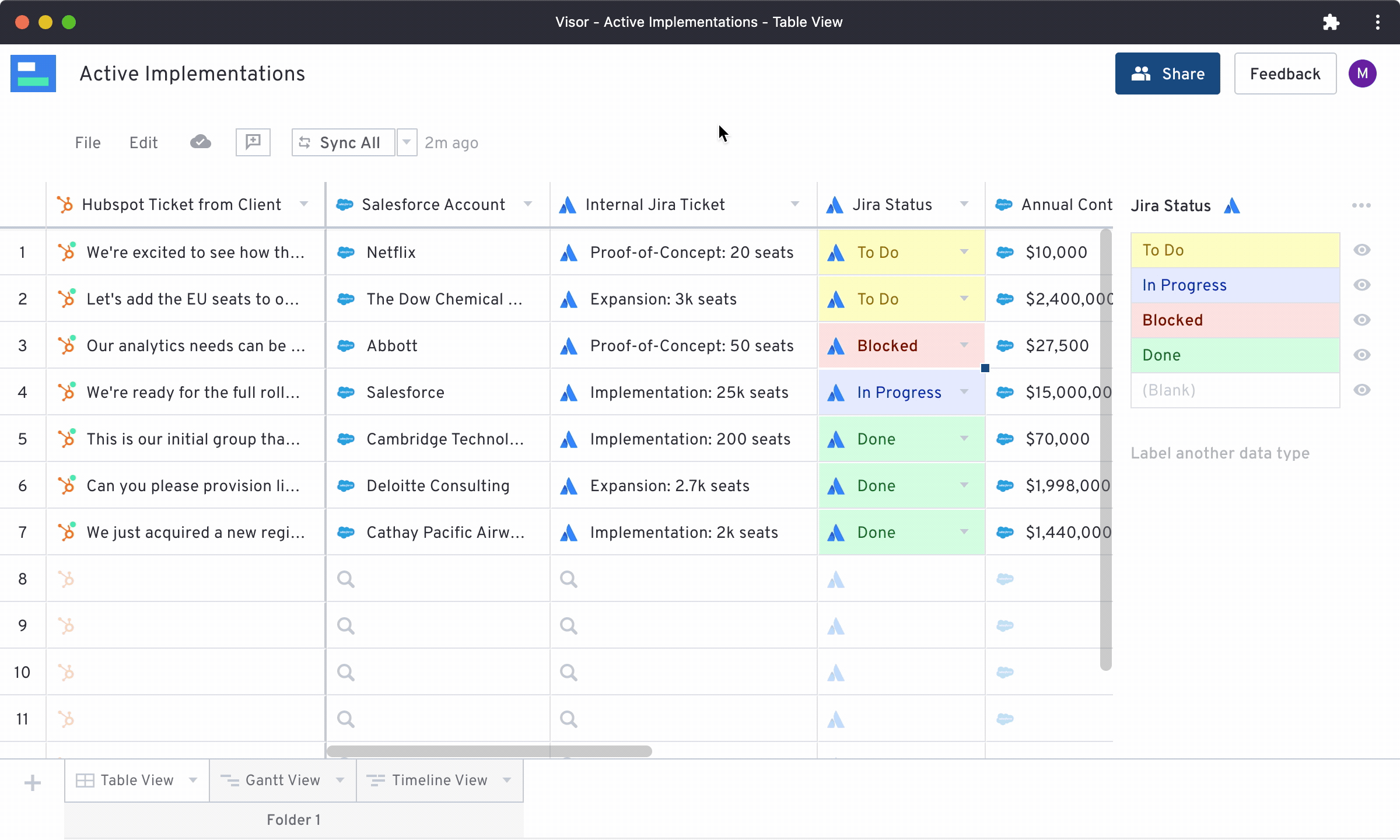 This is for the solutioneers
There is a burgeoning community of people who take business problems into their own hands. They may not be software engineers, but they are digital natives. Rather than waiting for help from technical colleagues, they roll up their sleeves and hammer together spreadsheets, apps, and integrations. They are pioneers who live on the fringe of what business software can do. We affectionally call them solutioneers.
Solutioneers are among the most important team members at any company. Where others see problems, they see opportunities to connect people and data. If you've worked at a larger company, you definitely know who they are. If you're reading this, chances are you may be one of them.
At one well-known space technology company, a solutioneer saved millions of dollars by creating a manufacturing execution system in a spreadsheet that pulls data from Jira, Airtable, and other internal systems. At another environment health company, a solutioneer improved customer response times by creating a dashboard linking user-facing support tickets in HubSpot and the internal tickets in Jira. And at a large public software company, a group of solutioneers kept the whole company up-to-date by building a rich product roadmap, linked to multiple systems.
No matter the problem, solutioneers generally need these three capabilities:
Trustworthy two-way syncing data from their business apps,
a flexible way to work with that data, and
a secure place to collaborate on slices of that data.
Why today's solutions aren't enough
Prioritizing flexibility, many solutioneers reach for spreadsheets. Spreadsheets are the ultimate no-code app builder, after all. But getting live data into these sheets from their business apps was a real thorny issue.
The problem is that today's integration products weren't built for this. There are great products like Zapier if you want every update in Jira to post to Slack. But if you're trying to build a two-way syncing product roadmap in a spreadsheet with custom columns, you're out of luck.
The shortcomings add up:
Rich fields like Jira's "Assignee" come in with just a person's email — they're not really editable
Dropdown fields, like "Status" and "Priority" show up as textfields you have to type into
There's virtually no way to get a reliable two-way sync without infinite loops
Integration errors get sent to your email, potentially leaving data accuracy landmines in your spreadsheet
Many solutioneers just give up and decide to become the integration. They'll copy-and-paste the data to keep it in sync. And we all know how that ends… poorly.
How Visor is different: quality vs. quantity
This got us to thinking: what could the solutioneers build if they had a spreadsheet that worked perfectly with integrated data? What would that solution even look like?
One thing was for certain: while most products use add-ons for integrations, our product's heart had to be it's integrations. Rather than building a product and adding integrations later, we'd build the integrations first. Then we'd carefully build a spreadsheet around the integrations, painstakingly maintaining that which made the imported data editable and presentable.
That allows us not just to integrate external data but also external product experiences in Visor. Rich fields like the Jira "Assignee" behave like the original in Jira — searching and all. Helpful bumpers prevent users from exceeding Salesforce field character limits, which would cause the sync to stop. And even when there is a syncing issue — say, you're about to make a duplicate contact in HubSpot — Visor provides clear in-context messaging to help you resolve it.
This radically different approach to integrations seems like the missing keystone that will support a whole new generation of creative solution-builders. It raises the trust factor and reduces the complexity.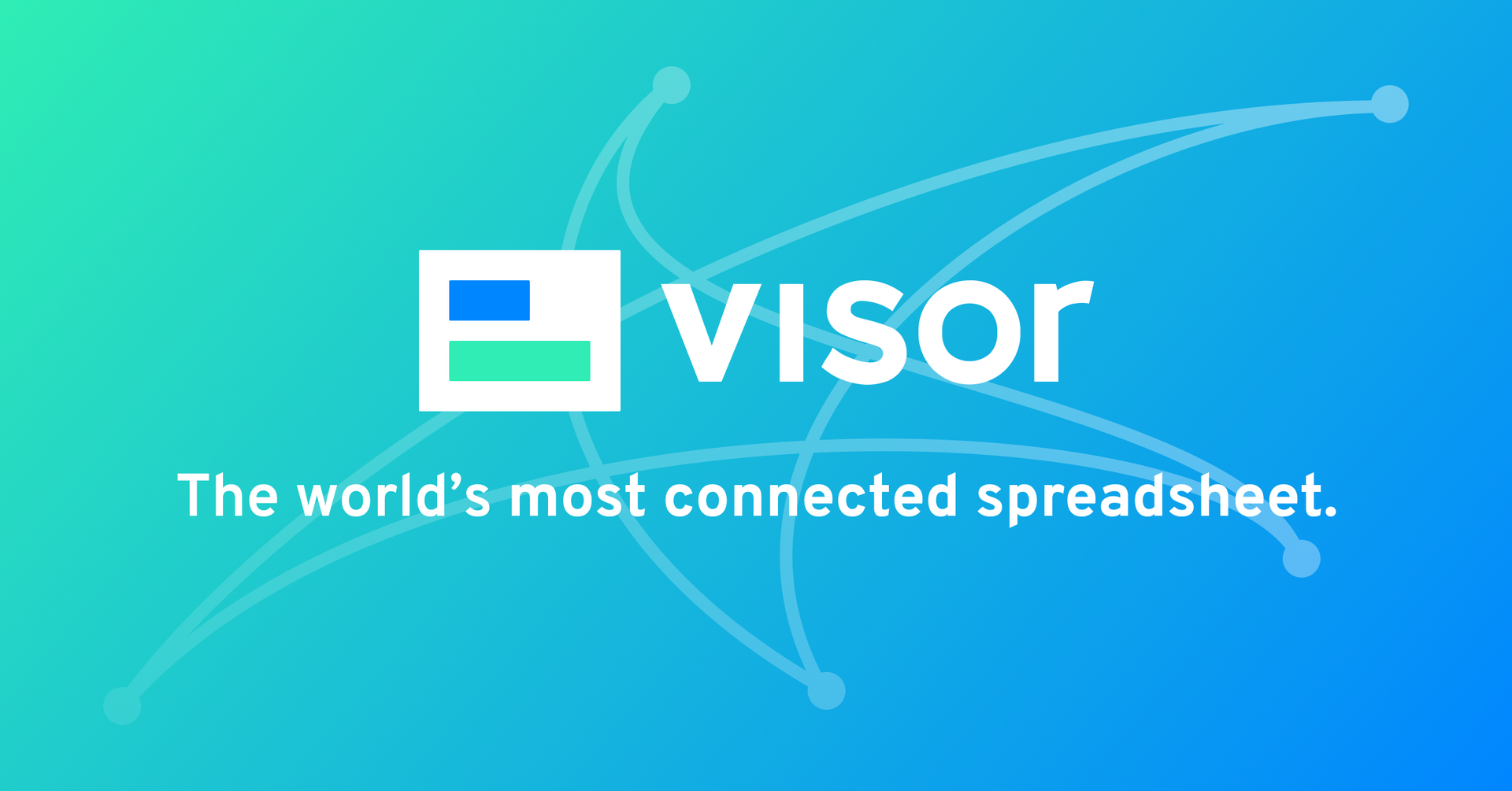 Our first use case: Product planning
Our long-term ambition is to empower all solutioneers everywhere to create compelling business solutions using Visor. But we have to earn our way there by establishing trust & value with a smaller subset of customers today. And whom better to start with than the product teams who originally inspired us on this mission by showing us their frankensheet roadmaps?
Visor's Jira integration is second-to-none. We're also now listed on the official Atlassian marketplace. We also offer an incredibly robust integration with Salesforce and HubSpot, mainly to help product teams connect their product feedback with real data from their CRMs.
But the sky's the limit; we've seen incredibly cool creations by mixing & matching the data from these systems. One enterprising customer even discovered that Visor is an amazing migration tool, using copy-paste. We're eager to continue building more view types, more spreadsheet parity, and more integrations.
What's launching
Starting today, we're officially launching the Visor product. We're also announcing the launch of our Support HQ, including the knowledge base, release notes, and public roadmap.
Next up in a few weeks, we'll also be launching our paid tiers. Right now all users are getting complimentary access to the Visor Unlimited plan. We'll be announcing more updates shortly.
Where the funding takes us
We'll be using this funding to continue expanding the team. We currently have five open positions, with more to be added soon. Visit our Careers Page for more information.
We're also investing far more in our product today than we ever have. We have incredible new features on the horizon. In particular, we'll be launching robust new sharing features to unlock even more use cases, such as sharing plans with clients or posting a public product roadmap.
Special thanks
We're able to have this exciting launch because of the work of so many friends, teammates, investors, advisors, and supporters. I'd like to thank:
The Visor team:
Our investors:
Our advisors & friends: